How to Make Tote Bags with Pockets
You're feeling crafty. So crafty, in fact, that you've decided to start a new project – creating a tote bag from scratch. But this isn't any old tote bag. It's one that will have a pocket, which means your sewing skills need to be on point if the bag is going to come together without looking misshapen or garish.
There's just one problem:
You don't know how to make tote bags, much less make them with pockets included. That's where this article comes in. Read on to discover how to make a tote bag – pocket included – from scratch, as well as a much easier method that takes far less skill.
The Difficult Method – Sewing Your Own Custom Tote Bag
If you're willing to break out the sewing needle – you'll need to know how to sew using a machine – then you can make your own tote with pockets as long as you have enough fabric. Before digging into how to make tote bags, make sure you have all of the following:
A large piece of canvas drop cloth – minimum size of 72 x 108 inches.
Another piece of cloth for the pocket, with the size being optional depending on how big of a pocket you need.
Sewing supplies, including a thread that complements the color used for the tote bag.
Scissors.
Straight pins.
Straight ruler.
A pencil.
A standard sewing machine.
Step 1 – Cut the Fabrics
Before you can start sewing, you need to cut your fabrics so that you have three things – the main bag, the straps, and the pocket.
Start with your large piece of canvas. Cut out one large piece measuring 36 x 19 inches (you'll fold it in half when making the bag) along with two strips measuring 25 x 3.5 inches to serve as your handles. Then, switch to your pocket cloth. You can choose whatever size you want here, as long as it fits the main bag portion, though a pocket that's 8 x 10 inches should suffice.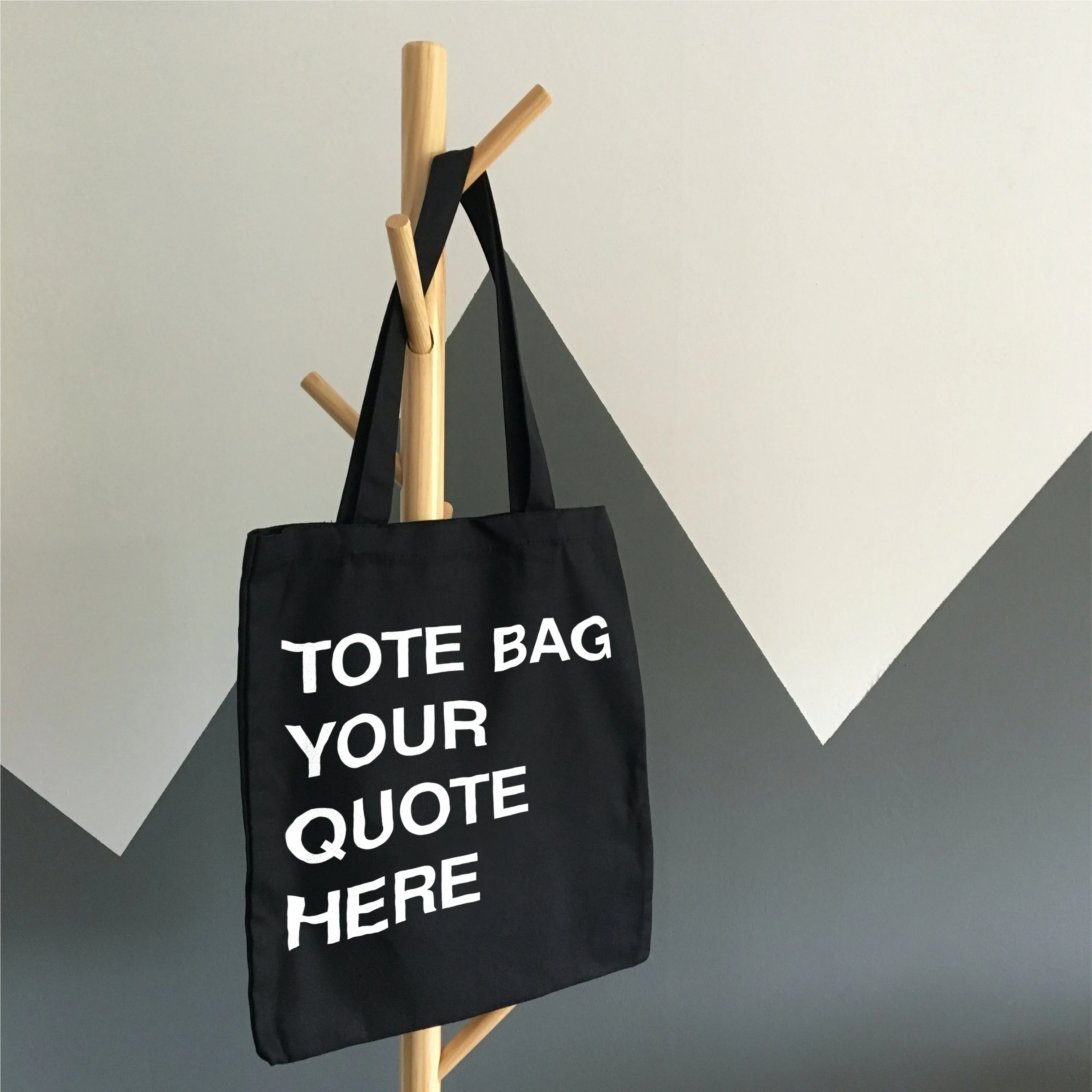 Step 2 – Attach the Pocket
Locate the hemmed edge of the piece of canvas drop cloth you're using for the bag as you'll use it as the top edge of your pocket. Position the pocket, pin it into place, and then use a straight stitch to sew it into place on your tote bag.
A quick note – you may need to create a seam allowance in your pocket if you're using a more delicate fabric. If that's the case, fold about a half inch of the fabric under the main pocket piece on three edges to create a thicker seam to hold your stitch.
Step 3 – Stitch the Bag Together
Place your main piece of canvas drop cloth so it's topside up and press a quarter-inch along the longest edge of the right side, which is the side on which the pattern is printed. Then, fold 0.75 inches on the wrong side – the side without the print – before lapping that fold with another 0.5-inch fold on the right side. Finish with another fold, this time 1.5 inches, to create a strap width and straight stitch the seam into place.
With that done, fold your bag's right sides together and stitch them. You now have a basic tote bag.
Step 4 – Create Mitered Corners
Mitering your fabric's corners allows you to create 90-degree angles by having two edges meet at a 45-degree angle.
Match the drop canvas's side seam to its bottom seam and fold before using a straight ruler to draw a line that's 1.75 inches from the corner point. This is your stitch line, which you'll straight stitch twice for added strength. Repeat for each corner and you get a set of 90-degree corners.
Step 5 – Attach the Handles
Locate your bag's top edge and fold it over a quarter-inch, then again another inch before pinning it into place. You've just created the bag's top hem, to which you'll attach the straps.
Using a pencil and your straight ruler, mark the center of the bag's top hem. Then, measure 2.5 inches on each side of that center point, which is where you'll place your straps. Slide the straps under the hemline you've just created and stitch them into place using a straight stitch. You place the straps under the hem to create a little extra strength – the straps essentially get sewn into two layers of fabric rather than one.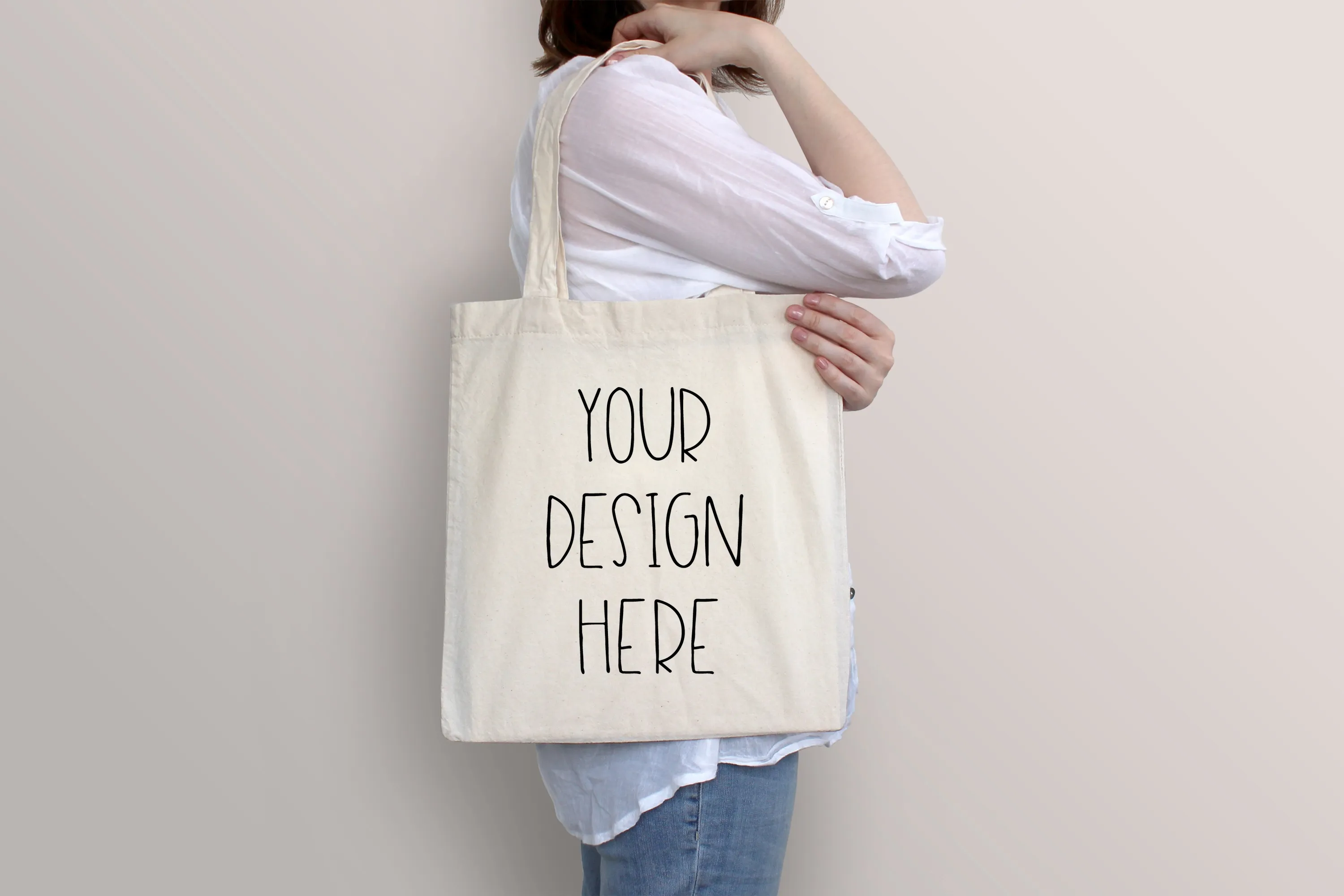 Step 6 – Stitch the Top Edge
Your bag should still be displaying its wrong side, meaning the patterned side is still inside. Keep it that way and run a stitch around the top edge to complete your bag. Switch it inside out and you have a canvas tote bag that's ready to use.
Additional Notes on How to Make Tote Bags
While the above technique uses very specific measurements, you can adapt those measurements if you want more pockets or a bigger tote. For instance, if you want two 8 x 10-inch pockets on one side of the tote bag, you'll need to double the size of the large piece of drop cloth you cut to 72 x 38 inches.
It's also worth noting that you can usually double up on your straight stitches – essential if you intend to carry heavy items and need the bag's seams to be as strong as possible.
The Easy Method – Have Tote Bags Now Make the Bag for You
Knowing how to make tote bags with pockets only helps you if you know how to sew and are confident enough to work with fabrics and seams. If you're not, there's a far easier method – have somebody else do it for you.
That's where Tote Bags Now comes in.
Not only can we create totes using all sorts of fabrics – including cotton and canvas – but we can build pockets into those bags and place a design of your choice on them. So, you can go through the effort of following the steps in this article to create your own or you can skip learning how to make tote bags altogether by starting the simple four-step ordering process at Tote Bags Now today.